Membership Conditions
Initial investment starts from 14.8 million yen. We provide a full support service fromtraining through store opening to other forms of guidance and assistance.
There is no need for difficult and technical expertise
No bothersome specialist knowledge or skills are required. Sushi is naturally accompanied by technique and specialist knowledge but no complicated skills are required. We have created a system that allows you to learn all you need to know through our training programme to the point where you will be able, by following a set order of operations, to hand over the finished products to your customers. What's more, we also provide you with comprehensive support in preparing to open your store for business and in every other area including aftercare guidance.
Recruitment area Japan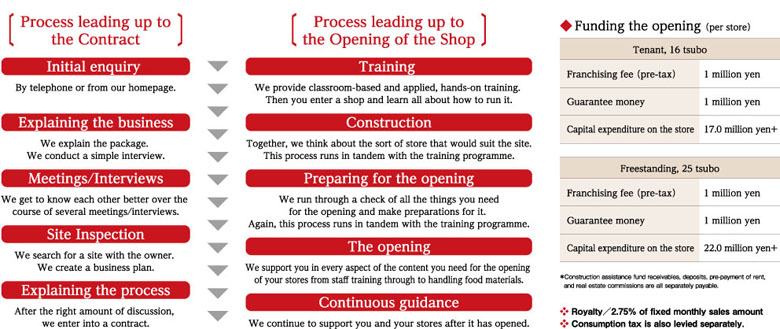 Funding the opening (per store)
| | | |
| --- | --- | --- |
| | Tenant, 16 tsubo | Tenant,25 tsubo |
| Faranchising free (pre-tax) | 1 million yen | 1 million yen |
| Guarantee money | 1 million yen | 1 million yen |
| Capital expendeiture on the store | 17.0 million yen + | 22.0 million yen + |
※ Construction assistance payments, security deposit,pre-payment of rent, and real estate commission separately. Royalty / 2.75% of fixed monthly sales amount Consumption tax is also levied separately.